In addition to the memorials in Hamble and our old ship at Chatham Dockyard there is also a large collection of Mercury's historic documents, photographs and the like in safe keeping at the Hampshire Records Office in Winchester.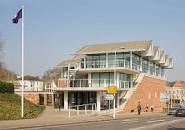 Deposited by the Mercury Old Boys' Association (MOBA) in 2011, 2012 and 2021 the Mercury archives at Winchester include documents related to management and routine activities of the school as well as private documents and photographs. Many of these came into the MOBA's possession after the establishment closed in 1968, or were donated by former Mercury boys or their families. From the early 1980s the expanding collection was under the care of the Association's archivist.
Of particular importance are the three Roll Books which contain basic details of about 5,000 boys who joined the Mercury from its earliest days, post 1885, to its closure in 1968. The collection also contains a large selection of Mercury Magazines from before and during the First World War, a few from between the wars and a complete set from 1948 to 1968. Among management documents are copies of the Mercury Prospectives from the 1930s to 1967 and the Mercury Management Committee Minute Books from 1909. There is also a large collection of photographs of individual boys as well as formal and informal groups plus a number of scrapbooks and collections of personal memories of former Mercury boys. There are also Prize Day and concert programmes, copies of certificates of merit, school reports, lists of prize winners, letters, newspaper cuttings and a large collection of miscellanies documents related to the history of T.S. Mercury, its ships and in particular, its boys and staff.
For intending visitors, the Records Office recommend they phone, or email, beforehand to arrange a time and date for their visit. This allows time for the staff to ensure collections are ready when visitors arrive. The Mercury collection is held under reference 74A11(3) and further details are available from the record offices excellent web site. Contact details are:
Hampshire Archives and Local Studies
Sussex Street
Winchester
Hampshire
SO23 8TH
Telephone No: 01962 846154 Email: enquiries.archives@hants.gov.uk
Note There are no parking facilities at the Records Office, but it is only a short walk from the Tower St. multi-storey car park or Winchester Station with direct trains to London, Southampton, or Birmingham.